Works for liners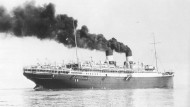 Roma – Turbine ship
Turbine ship, Navigazione Generale Italiana.
The Navigazione Generale Italiana (afterwards Società Italia), having decided to renovate all interiors of the turbine ship Roma (32,500 tons, built in Genoa in 1926), entrusts the architect Gustavo Pulitzer Finali with the interior renovation in September 1938.
Marcello Mascherini takes part by designing a large bas-relief to be installed above the fire-place in the First-class hall, of which a smaller model was made of mouldable material (La Terra, 1939, cat. 173).
The Pulitzer's Stuard office develops a series of plans, but the project does not carry on, even for the artists invited to contribute, since the liner is then commandeered by Italian Navy in 1941 to be transformed in Genoa into the first Italian aircraft-carrier Aquila (28,000 tons, flying bridge 211 meters long, 50 planes).
The Armistice day, 8 September 1943, the aircraft-carrier is almost completed and ready for the final tests, but not in time to be on active duty. On 9 September the crew sabotages the ship before deserting it; captured by Germans, is handed over to the authorities of Repubblica Sociale Italiana, vainly trying to complete the ship.
Subjected to continuous allied bombing, it is also used to close the entrance of Genoa port. It is towed by the English to Calata Bettolo, where is left for some years when is again towed to La Spezia in 1949, being then dismantled in 1952.