Works for liners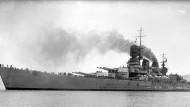 Roma – Warship
Warship, Regia Marina Italiana.
Shipyard
Cantieri Riuniti dell'Adriatico, Cantiere San Marco, Trieste
Tonnage
41,650 tons
Length
240.70 m
Breadth
24.31 m
Motor system
4 sets of double-moltiplication turbine-reducers
Manufacturer
Fabbrica Macchine Sant'Andrea, Trieste
Power
140,000 HP
Cruising speed
30 knots
Arming
9 x 381/50 guns; 12 x 152/55 guns; 20 x 37/54 machine-guns; 28 x 20/65 machine-guns; 4 x 120/40 guns
1938
28 October, laid down on the stocks
1940
9 June, launched
1941
9 November, it sails from Trieste headed to Venice for works in naval basin; returns to Trieste on 14 December (on 11 December Italy declares war on United States)
1942
January-April, the ship preparation is completed, exercises are carried out at sea; it is handed over to Regia Marina on 14 June entering nineth Division based in Taranto
1943
An allied air-raid causes damage on the stern area on 24th June and the ship is sent to Genoa for repair, then quickly going back into its fleet; on 13th August it is again moored at La Spezia.
At 3 o' clock a.m. 9th September 1943, few hours later the Armistice announcement, it leaves together with the "Battle Ship Force" (three "Littorio"-class battleships, two battle-cruiser divisions, two destroyer squadrons and a group of torpedo-boats), leaving Genoa and La Spezia towards La Maddalena islands. The ships are under admiral Carlo Bergamini, who should have received further orders correlated with the armistice clauses. During a serious attack against the Italian fleet at high altitude (out of the range of the anti-aircraft artillery) by twenty-eight German bombers near Asinara Gulf in Sardinia the Battleship "Roma" is hit by two piercing remote-controlled bombs, one of which hits a munition stock: the ship breaks in two stumps and sinks into those waters causing the death of 1,393 between crew men and the fleet command, admiral Bergamini included, while 628 survivors are saved by rescuing ships.
2012
After several endeavours to find the exact co-ordinates, on 17 June 2012 the ship wreckage is finally found by Eng. Guido Gay (owner of Gaymarine company based in Trezzano sul Naviglio, Italy) in Asinara gulf in the bottom of a canyon at 1,000 meters depth, 16 miles off Sardinian coast. On 28 June 2012 the discovery is confirmed by two officers from Marina Militare Italiana sent on board Mr. Gay's catamaran "Daedalus".
Architect and interior designer
Gustavo Pulitzer Finali, who was already entrusted with furnishing of the battleships "Vittorio Veneto" and "Andrea Doria", launched in 1934 and 1938 respectively.
Works by Mascherini:
Dea Roma (1941-1942, bronze, cat. 132), Council-room (see photograph Ufficio Storico Marina Militare);
Study for the celebrating medal of the Regia Nave Roma (1942, ink on paper);
Celebrating medal for delivery of the Regia Nave Roma (1942, mouldable material).
As kindly written to us by Admiral Domenico Carro, author of the book Corazzata Roma. Eccellenza e abnegazione per la patria, Presidenza Assemblea Capitolina, Cooperativa Sociale Eureka Coop. A.r.l., Rome, 2011: " The Dea Roma statua was exactly in the most prestigious premises of the Corazzata Roma". In fact, the "Sala Consiglio" was the meeting place summoned by the Commander-in-chief of the Battle Navy, Admiral Carlo Bergamini, together with his Staff and the admirals and commanders of the independent units. Still today the "Sala Consiglio" is the premises of a major battle ship (nowadays two Italian aircraft-carriers and the missile launching torpedo-boat destroyers) assigned to as meeting place and representation hall of an Admiral engaged on board as commander of a complex Command, e.g. the Squadron Commander-in-chief or a Naval Division Commander".