Works for liners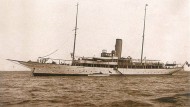 Elettra
Yatch – Archduke Carlo Stefano of Austria.
| | |
| --- | --- |
| Type | One-impeller, two-masts yatch |
| Shipyard | Ramage & Ferguson, Leith (U.K.) |
| Year of construction | 1904 |
| Length overall | 67.40 m |
| Bridge length | 60.35 m |
| Length between perpendiculars | 56.36 m |
| Waterline length | 56.08 m |
| Beam | 8.38 m |
| Freeboard | 5.18 m |
| Draught | 5 m |
| Motor | Ramage & Ferguson - Leith, three-expansion steam, 3-cylinders, 127 nominal HP |
| Tonnage | 632.81 tons |
Ordered by Archduke Carlo Stefano of Austria, the yatch was launched in 1904, named Rovenska and headed to his wife, Archduchess Maria Theresa. Coming to private British hands in 1910, the ship was militarized in 1915 and used in the English Channel as patrol ship. Put up for auction in 1919 it was purchased by Guglielmo Marconi, who transformed it in Naples into laboratory ship also suitable for long stays and for hosting celebrities, like King Vittorio Emanuele III, King George V of the United Kingdom and the kings of Spain, registering it with the name Elettra at the Genoa maritime department in 1921.
The Elettra became the means to study the applications of radio waves contributing greatly to the advancement of radio communications. In 1922 and 1923 transmission and reception experiments were carried out along the west coast of North America, showing that a signal could be picked up to more than 4,000 km with reduced power. In 1930 the pick up distance was taken away successfully at 14,000 miles. Further experiments were carried out with microwaves in 1937, when Marconi died on July 20.
The ship-laboratory was then purchased by the Italian Ministry of Posts and Telecommunications, reclassified in 1939, brought for safety to Trieste in 1940 and kept by the Società Italia until 8 September, 1943. Requisitioned by the Germans, the yacht was converted into a unit of military escort. On 21 January 1944 the ship was hit by Allied fighter-bombers near Zadar, becoming, by the peace treaty, a semi-submerged wreck of Yugoslav property. In 1947 the Marconi's equipment were fortunately saved and sent to the Museo della Scienza e della Tecnica in Milan.
Returned to Italian Republic in 1959, the wreck was emerged after years of serious degradation and towed to Cantiere San Rocco in Trieste; after several renovation proposals and hesitations the demolition was decided. In 1977 the sculptor Marcello Mascherini was called to be part of the Commission entrusted to provide adequate wreckage arrangement proposals to Trieste municipal admnistration (further assignment was notified to him on 23 March, 1982).
At Cantiere di San Rocco, Muggia, under the direction of engineer Oddone from the Ministery and the consultancy by Mascherini as well as an architect, the hull was cut into several portions, then reinstalled in various Italian cities, along with equipment and memorabilia on board: Telespazio on the Piana del Fucino (Rome), Museum of Post and Telecommunications in Rome, the Marconi Foundation in Pontecchio, Museum of Science and Technology in Milan, Venice Naval History Museum, Museum of the Sea in ​​Trieste, Padriciano (Trieste), International Maritime Academy in Trieste, Arsenale di San Marco in Trieste, Villa Durazzo in Santa Margherita Ligure, the Post Office building in Mestre, "Fameia Muiesana" in Muggia, but also the Marconi Club in Sydney and various other destinations.